[Research shows that leaders who use this proven process create more loyal team members, build bench strength,
develop a better bottom line, and have healthier companies...aka make more money]


Leadership

Glue
How to Be the Glue in Your Business without getting Stuck in the Daily Grind.
Check out the Book and our Programs below...
Leadership Glue 
The Book...the Author...Why NOW?

(Video: 3.25)
Leadership Glue is for YOU, if:
Business Owners and Leaders...do you see yourself here???
You are working over 40 hours a week and you have anxiety, worry and sleepless nights, but can't find a solution that works
You have lots of employee turn over so there is no consistency in the work delivered...and you think you might be the cause???
You do not have enough leads and you're worried about it
Your kids and spouse don't know you...and you are the stranger in your own mirror
You took a vacation when??? and went where???
You're exhausted at work and at home and haven't seen your friends in eons...plus, they stopped calling and texting you...
You want the money, the resources, the freedom and flexibility in your business to do your next big thing but can't find the time or energy
You are on the brink of a crisis: burn out, marriage disaster, health issues, financial issues...
You know you need help, but you don't know how or where to get it...you don't want to share these issues with people you know
You are the end of your rope...nowhere to go, no one to turn to, no hope in sight
You would love to have someone to talk to on a regular basis and get some help with this "stuff"
Leadership Glue: Everything You Need to Get Started Today
You're a Leader...You have talent...You have skills...You have expertise...but, no matter where you are, there's something here for you. 
The Book: "The Book Store"
Leadership Glue: Be the Glue in Your Business Without Getting Stuck in the Daily Grind
> For Business Leaders/Owners wanting financial freedom, flexible time, and the skills to pursue their next "big thing" in their business. It's not about retiring or exiting...it's about having a business that serves you and your team.
                   Buy the Book Here.
 Free Resources: "The Vault"
Start Implementing Leadership Glue Processes Today 
> Leadership Glue articles, check lists, workbooks, templates, how-to videos, Leadership Interviews, and other free resources are in "The Vault" to give you fast and easy implementation. Just register to crack the code and maybe even earn some free swag...
 Click Here for Free Resources in "The Vault"
Network and Learn: "The Stadium" 
Leadership Lessons: Learning that Sticks
> In "The Stadium" we'll gather, share, and learn Leadership Glue skills. It's where you'll get a "permission slip" to try new ideas... and a "hall pass" to take a break from business craziness. "The Stadium" format addresses Leadership issues through Q&A's, Q-Storming, Leader Interviews and more. It's a fast-paced, interactive learning environment.
        "The Stadium" Registration Details
Book Club: "The Den"
Join Others in a Leadership Glue Book Club
> "The Den" is the online space where we gather to study the book in a Book Club format. You and your peers will deepen your understanding of the concepts and learn how to easily implement "The Glue!"
>> Business Owner Book Clubs and Company Team Book Clubs Available
 Leadership Glue Book Club Details/Schedule
Virtual Mastermind: "The Garage"
The Leadership Glue Mastermind 
> "The Garage" is where we gather to tinker, fix broken things, build new ones, fix old ones...where big ideas are hatched and collaboration and innovation begins. You'll prioritize developing and committing to your growth as a Leader as you grow your team's bench strength and bottom line. 

        "The Garage" Mastermind Details
 Executive Coaching: "GLUED"
Leadership Glue: Executive Coaching
> Don't go it alone on this journey. Six months of Fast Track 1:1 Executive Coaching and you'll be "GLUED" to quickly embed Leadership Glue into your business. You'll make focused and fast progress. We'll work through the processes and skills in the Hands ON/Hands FREE/Hand OFF program where you'll see immediate results.
"Glued" 1:1 Executive Coaching Details Here
Learn more about Leadership Glue Programs and how to decide which one is right for you. (4:05)
Where should YOU start with Leadership Glue?
All Business Owners/Leaders: Read the book first and then enroll your team in "THE DEN," our Leadership Glue Book Club, so they know what you're up to...
Start-ups and Entrepreneurs: "THE STADIUM" is a great place for you to be - lots of learning, fast paced sessions and not a big time commitment.
Early Adapters & Quick Start Leaders: 1:1 Executive Coaching - "GLUED" is for you. In six months, you'll grab the "Glue" and be on your way to embedding it into your culture and team.
Business Owners: Your sweet spot is "THE GARAGE." Here you can tinker, fix, fiddle, dream and achieve in a mastermind format with your peers. Learn, collaborate, and find your next "Big Thing" in the incubator environment of "THE GARAGE."
Frequently Asked Questions
Question #1: What is Leadership Glue?
In Leadership Glue programs, Business Owners and Company Leaders learn how to build the guardrails to protect their Vision and Values and how to Develop the Conditions for Success for themselves and their team.  Our clients grow their businesses by going from Hands ON to Hands FREE to Hand OFF.  This proven process gives the team the ability, responsibility and accountability to expand their bench strength and allows the Leader to get on to the next big thing...not exiting or retiring, but living out his/her life's purpose.
Question #2: What exactly does Hands ON to Hands FREE to Hand OFF look like?
Hands ON: Teaching, training and relationship building
Hands FREE: The Messy Middle where team members demonstrate their ability to work with less supervision
Hand OFF: Like a runner handing off the baton to the next equally capable teammate, this phase gives the Business Owner freedom and flexibility for the next 'big thing.'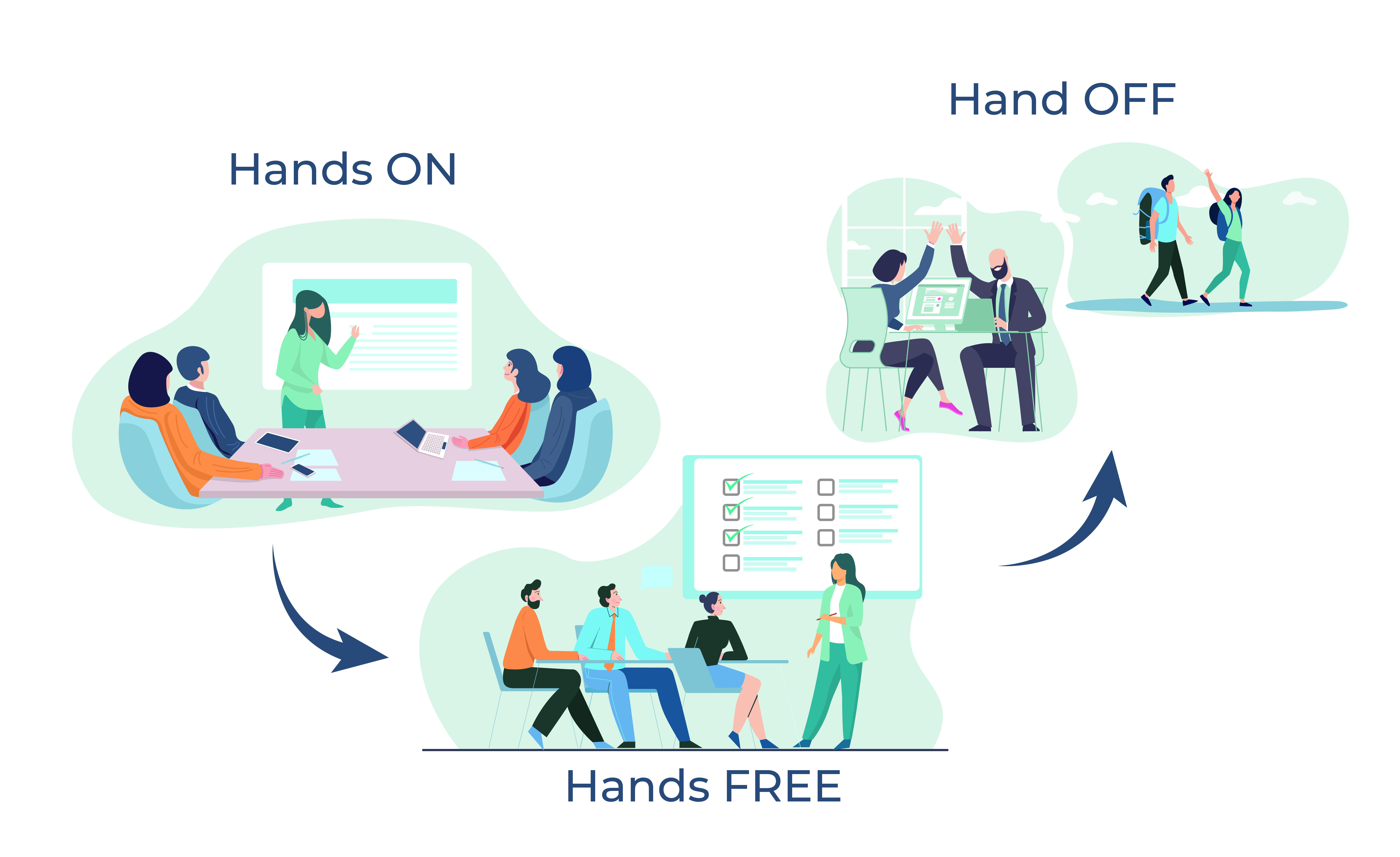 Question #3: How quickly will I see results?
Hmmm...interesting question. The truth is that change can be difficult when resisted...but when you initiate growth and development for yourself you are 'shedding old skin' for the new you. Your team will embrace change when you are consistent and congruent.
1. Results will come from your intention combined with taking action. This is in your control.
2. There is a natural incubation period needed for the brain and soul to allow GLUE to become part of your business DNA. It takes time to organically embed GLUE into your natural way of working.
3.The full shift to a Leadership Glue Business will take about 6 - 8 months...but you and your team will see Quick Wins almost immediately.
Question #4: How do I register for Leadership Glue programs?
Each program has a separate page with more details. Click on the links below to learn more and to register:
Buy the Book HERE
The VAULT: Free Resources
The DEN: Sign up for a Book Club
The STADIUM: Join a network of Leadership Glue Business Owners and Connect
The GARAGE: the Leadership Glue online place where Business Owners tinker and innovate together
"GLUED" - 1:1 Executive Coaching:  where Business Owners quick-start their Leadership Glue journey
Book a Leadership Glue Assessment call with the Leadership Glue Team HERE
North Star Marketing: We Know Our Way Around the Business World...here are some of the companies we've worked with...
North Star Marketing has contributed to the sales success of large companies as well as start-ups and family owned businesses. Our industry experience covers all B2B and B2C categories; from food products to heavy equipment to professional services and tech companies. 
As a member of numerous corporate and non-profit Board of Directors, Kae also helped guide organizations through leadership transitions, expansions, capital campaigns and organic growth.
Wagner's leadership and marketing expertise has led to award winning communication as a two-time author, marketing columnist, national speaker and a frequent podcast guest. 
Over the years Kae has led multiple CEO/Business Owner Peer Groups with Vistage, the S. Dale High Family Business Center, the Sales and Marketing Forum and the X2 Forum.
"We help business owners and company leaders understand their markets, their products, and their people. Then we help them fix what's not working."                      Kae Wagner, Founder/President
The ripple effects of Leadership Glue go around the world...
"My team's productivity has improved by 40% since I started Leadership Glue. And me? I think I've improved 100%."

"My people noticed immediately that I was more authentic and actually did care about them. Thank you, Kae and the Leadership Glue team, for saving my people from the old me!"

"The tools are phenom, but I'm more amazed by the results that showed up in all of my life. At work, my people don't scatter anymore when I show up and they trust me again. And, my wife is back in love with me. Kae, you delivered on what you promised."

"Kae gives me very practical, very concrete guidance on what to do, how to do it and the support to help me through the process when I'm not sure what to do or how to do it. The bottom line is I just knew that it's worked already and there's a lot to navigate right now so I just wanted someone who really knows her stuff to be my partner in doing this."
Want to know how you're doing with your employees and how they see you as a Leader with "GLUE?" Book a 1:1 Individual Leadership Glue Session to take a short assessment and get three action steps you can take to easily get more "Glue" in your business. It's the first step in your Leadership Glue journey toward success.